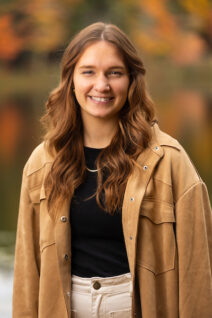 Front Desk Coordinator
At London Family Orthodontics:
I am thrilled to be the first smile each and every patient and family member sees! My voice is usually the one heard over the phone too! Additionally, I enjoy assisting with ensuring patients are seen in a timely manner by coordinating the schedule and collaborating with the local dental community on patient care. It's so fun getting to wear multiple hats from social media creator to barista extraordinaire.
When not at the office:
you can find me hiking, kayaking, gardening, or anything that gets me outside! When not outside, I am usually thrifting with my hubby, Cam!
What I love most about work:
seeing a huge, confident smile when a patient gets their braces off!